Hello!
As it's the start of a brand new year, I thought I'd take a little time to introduce myself (as I know a lot of people will have joined me over the past 12 months, and who's got time to go back and find a blog post like thi from ages ago? Not someone who's planning a wedding!). Even if you've been reading my posts for a while, which I am very grateful for, it's been a long time since I've written a post like this
For those who don't know, my name is Rosie, and I own Little Vixen Designs where I specialise in providing handmade wedding stationery. I am based on the Nottinghamshire/Derbyshire border but have worked with couples all over the UK.
And that below is what I look like (though I much prefer hiding behind a keyboard...)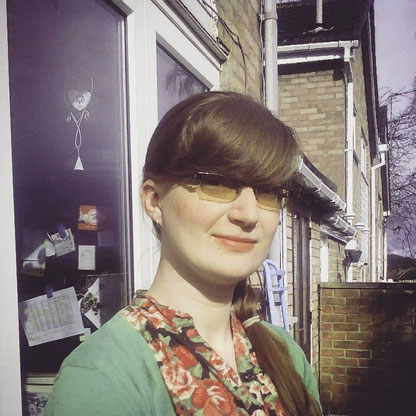 I started my little business in 2011 after working in craft shops for a few years. Not only did this teach me all the skills that I use to make wedding stationery, but it also made me see that there was I need I could fulfill with these skills.
Almost every week I met a new bride who, for whatever reasons, decided to make her own wedding stationery.
Some of these brides already made their own cards and so had all the equipment and skills to be able to do a fantastic job of their invites. These ladies generally loved going down the DIY route and it was so much to help them, particularly when they brought in one of the finished items to show us.
The ones who didn't enjoy making their own stationery were the ones who had never before made a card in their life and/or had done very little creative work since school, but couldn't find a design they likes or thought that the quotes they were getting were too expensive. Whilst it was typically cheaper to buy all the materials, some of the essential equipment could push the price up and often it didn't work out too much cheaper anyway- and they still had to put it all together! Believe me, making wedding invites can take a looooong time, particularly if you are inexperienced at making cards, and it can quickly stop being fun, as a lot of these couples testified.
So, I set about putting my skills to good use. I created a range of designs, priced them fairly competitively and started doing a bit of promotion. The rest, as they say, is history.
Over the years, I've developed my own style (which I'd class as 'simple, elegant and adaptable'), added items and worked with lots of wonderful couples on their wedding stationery.
In 2017, I'm going to be adding a range of digital designs you can buy, download, customise and print at home. These will be available via my newly relaunched Etsy store, with a new design added each month. You can get updates of new designs (both digital and handmade) by signing up for my newsletter. Each Friday, I send an email with either a special offer, a new handmade design, a blog post or a new digital design, as well as any other news. The special offers are exclusive to newsletter subscribers in the UK, and when you sign up you will receive a password for the page on my website where you can access these offers, plus guides and hints and tips on wedding stationery things.
Right, well I'm aware that all that is mostly business-related, and not really 'about me' at all... So, for those that are interested in the person behind the business, keep reading:
When I'm not working on my little business, I love spending time with my boyfriend, going on walks and visiting museums and art galleries.
In fact, I'm a bit obsessed my history in general, and have recently written a historical novel with a paranormal twist, which I published under the pen name Izen Lumak, because I thought it might be fun to have a nom de plume. Briefly, it's the story of Henry VIII as if he was a reluctant vampire and how this forced him to become England's favourite tyrant. If you'd like to check it out, you can find it on Kindle and print book here, as well a most other eBook retailers. I'm also working on a second novel, and have a third half-planned. Turns out, I really enjoy writing stories- which I really wish I'd discovered sooner!
I also have tried most crafts out there, partially thanks to my degree in Traditional Crafts (which can be summed up as 'fun, but mostly useless'), and partially because I have what my boyfriend calls 'Creative ADHD' and can't wait to try a new creative activity. Seriously, my house is littered with sock monkeys, jewellery projects, sketchbooks, you name it…  
Part of this excessive creativity in the form of digital images gets put up onto a website called Redbubble, where it is printed onto a variety of objects when someone buys it. There's a right old mix of things there, from hand-drawn sketches by yours truly to designs featuring vintage images and words and phrases in pretty fonts. Naturally, I'm going to pop a link to my Redbubble shop right here, so you can have a snoop if you'd like to :) 
Aaaand... that's about all I can think of to write! So I'll wrap it up there :) 
Thanks for reading- back to my comfort zone of writing about wedding stationery next week!