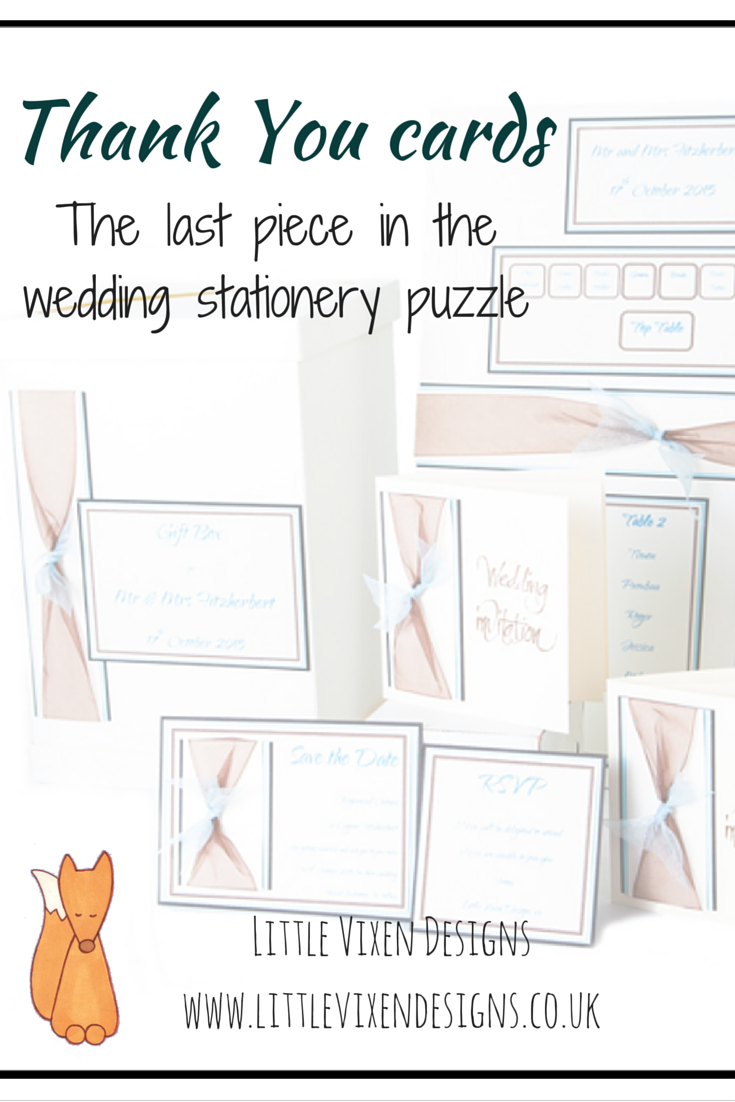 Today, I'm going to write about the last piece of wedding stationery you'll be using- your thank you cards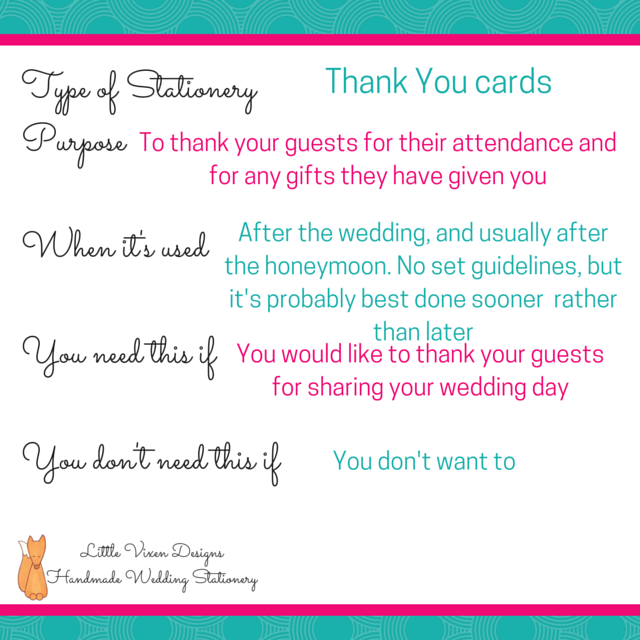 Of course, not an essential wedding stationery item, but, well… it's nice to be nice, isn't it? Plus, your guests took the time to come and celebrate your wedding, and it wouldn't have been the same without them, would it? And, if they've been kind enough to give you a gift, a little note of thanks will just let them know that it was appreciated.
Just like any other thank you card you may send, the style and design you choose is entirely up to you. You could have them matching your invites, or use a photo from your wedding day or honeymoon (if you've requested money towards your honeymoon, then this is a really nice option), or something entirely different! Likewise, whether you have a 'normal' card (i.e, folded) or a flat, postcard style is entirely up to the individual
If you're going to thank your guests for the gift they've given you, make sure you make a note of who has given you what- in the whirlwind of the wedding celebrations, it's easy to forget these things!
When writing your thank you cards, I suspect that there used to be an etiquette that was firmly adhered to, however, as with most things to do with weddings, a more relaxed approach is often taken- after all, you're writing to your friends and family! Something along the lines of:
Dear Auntie Sue,
Thank you for coming to our wedding! Having you there really helped make the day extra special. We really appreciate your kind gift of money, it will really help us when we start redecorating later this year. Once we're finished, you'll have to come round and see what we've done with the place! 
Lots of love, 
Mr & Mrs Smith xxx
Keep it short and sweet, but make it personal : Oh, and send them out as soon as possible!
You might also want to give thank you cards to members of your wedding party on the day, and you can get some lovely 'Thank You for being my Bridesmaid' etc cards (or ask your stationer to make some up to match your invites)
And… that's it! I've come to the end of all the usual pieces of wedding stationery – of course, there's always things like signs and whatnot, but generally if people are asking for them, they know what they want and how it'll be used
If you think I've missed anything, or you have any questions that I've not answered, please leave a comment or email me at info@littlevixendesigns.co.uk and I'll be happy to help xx