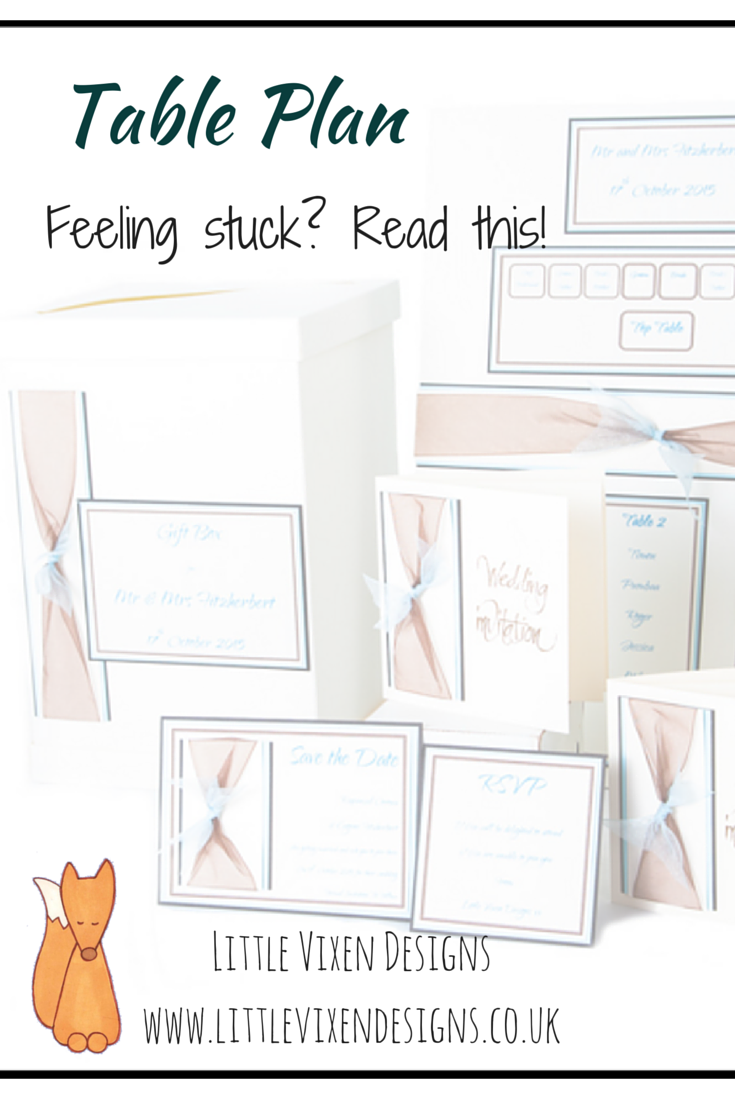 Ok- honestly, this is the piece of wedding stationery that causes most problems for couples (and I'm really sorry, I can't help with the difficult part of sorting out your table plan, which is generally trying to work out who to put next to whom, and who to keep apart- I'm really more about the decorative side of weddings! But, if you have guests who won't get on, having a table plan can help make sure that they won't accidentally sit next to each other for the entire meal, so it's worth taking the time if that's a situation you want to avoid), but if you understand what they're all about, then hopefully it'll make your life a little bit easier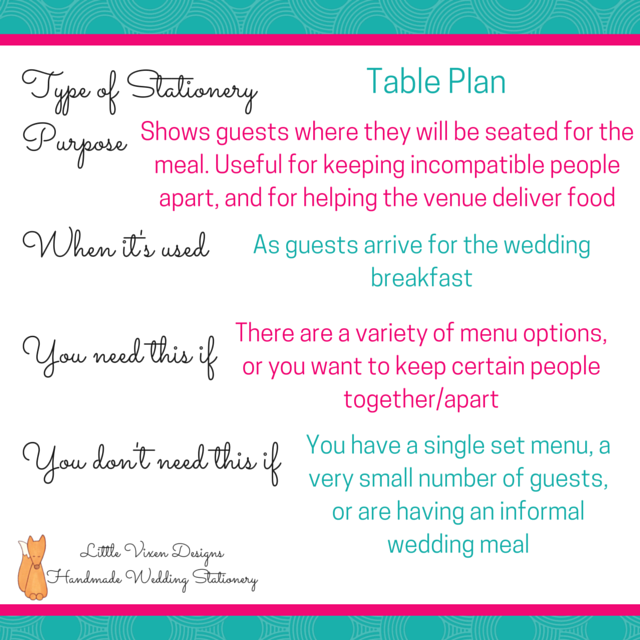 So, what's a table plan?
A table plan is a way of telling your guests where they're going to be sat for their meal at your wedding. This makes sure you can arrange guests in a way that they'll have a good time (pair compatible personalities and separate those likely to clash!), and also makes it easier for your venue to get the right food to the right people- especially important with complicated menus and/or large parties
Normally, it's a large, decorated board with lists of names for each table, however people are getting more creative with their designs (generally because they've seen it on Pinterest- if you're wedding planning and don't have an account there yet, you really should, there's so many ideas there. Don't go there now though, set it up when you've finished reading this post). I've seen chalkboards and mirrors, hanging tags from trees, all sorts. But typically, a big board that is decorated to suit the theme/style of the wedding that has  everyone's names on is what people go for
You don't just have to have numbered tables, although there's nothing wrong with that. I've done tables with pets names, places the couple have visited, tube stations, cars, board games… really, there's no limit to what you can call your tables; the important thing is to have some way of identifying which table is which (signs to go on the table is a good way of doing this. I'll talk more about these, place cards and menus in next week's post about table stationery)
Likewise, the style can be pretty much whatever you like- as I mentioned briefly before, there's loads of ideas, but having something that suits your overall style helps keep the continuity of style going (having an ultra sleek and modern style table plan if you're got an overall vintage travel style going on would look a bit odd!) and helps your wedding look coordrinated and well put together
The general layout of a table plan is:
Mr & Mrs Smith
27th June 2017
Top Table
(Various ways of laying this out- see below)
Table One      Table 2      Table 3
Table Four      Table Five      Table Six
Table Seven      Table Eight      Table Nine
Obviously, adjust to suit the number of tables. This is also not set in stone, if you want a completely different arrangement, that's fine- just make sure it's easy for your guests to work out which table they'll be seated at!
Top Tables are reserved for the wedding party- generally bride and groom, both sets of parents, best man and chief bridesmaid. Feel free to add partners of best man and bridesmaid(s) if there's space- after all, it's nice to sit with your partner at a wedding!
A fairly typical Top Table would generally read:
Best Man/Mother of the Bride/Father of the Bride/Bride/Groom/Mother of the Groom/Father of the Groom/Chief Bridesmaid
Of course, if you know that your bridesmaid is going to get on better with the bride's mum or the best man knows the groom's dad better, swap them around, or reverse the arrangement altogether. There's less formality with wedding etiquette nowadays, so don't get caught up in the details. It's all about making sure your guests are going to have a good time, so seat people based on their compatibility
If your family dynamic is slightly more complicated (remarried parents, for example), it's tough decision time, and very much depends on how convivial the relationships are. I'm no expert in these matters- by the time I come to look at a table plan, all this stuff has been sorted out!- but there's lots of advice available online. Very much passing the buck here, but honestly, I'm not the best person to ask and you'll get much better quality of advice from other sources.
Design is where I come in on all of this, and really, the world is your oyster. If you want to match to your invites, that's fine; if your style has evolved since you sent your invites, that's fine too! It's always best to discuss these things with your wedding stationery professional (if you have one. If you're making it yourself, look for ideas on Pinterest, then check out my posts on whether you should DIY and Top Tips for DIYing stuff for your wedding before leaping in and having a go. That way bad designs and poorly finished table plans lie, preparation is always key!)
Next week, I'll be talking about the companion pieces to table plans, the table name signs and place cards xx