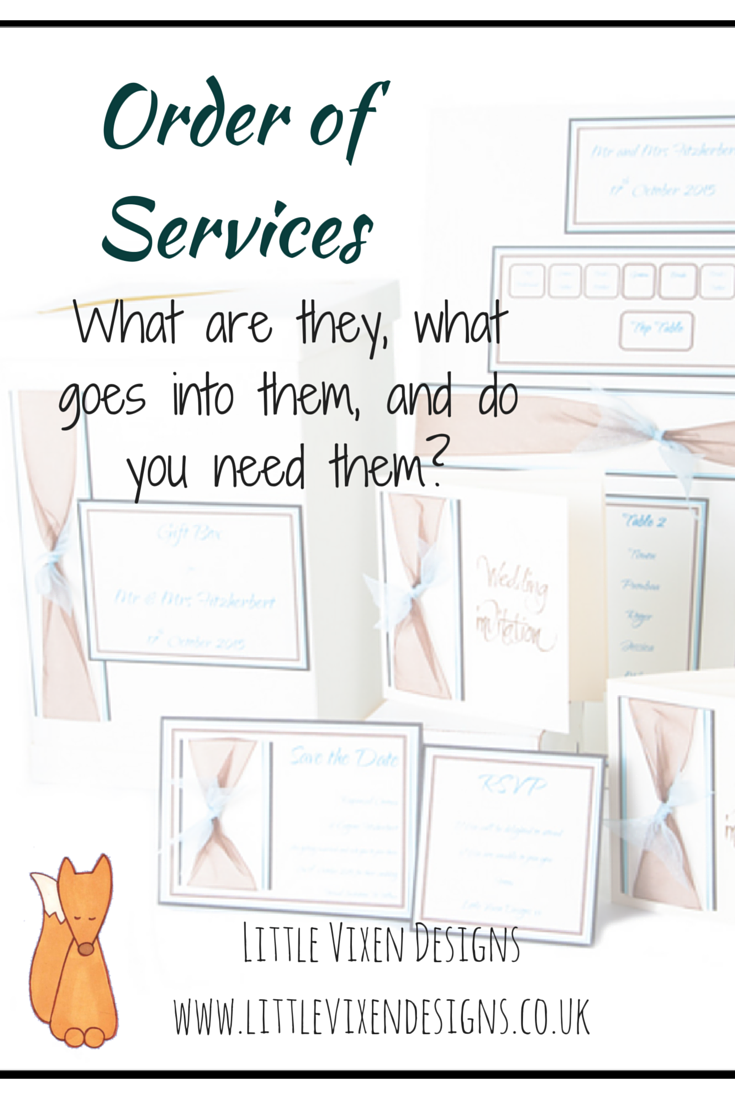 Whenever I get asked 'What is that for?', more often that not they're referring to Order of Services.
These seem to be the least understood of all the different types of wedding stationery (despite the fact that it pretty much does what it says on the tin!), so I'm going to go through what gets included, what they could look like, and whether you actually need them or not.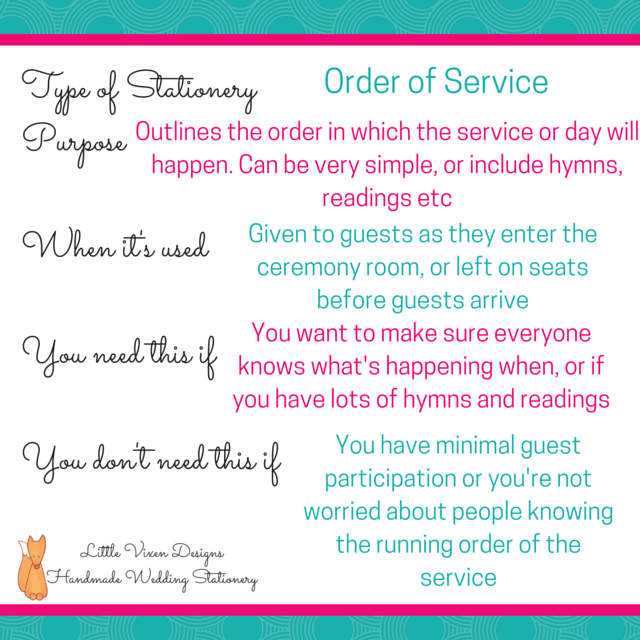 If someone asked you to take a wild guess as to what an Order of Service if for, what would you say? That's right, that it's something that details the order of things that happen within the wedding ceremony- pretty obvious, right? Well, I think the thing that causes so much confusion is that people might not know what needs to go into the Order of Services- and that's ok; after all, getting married isn't something you do every day!
Order of Services are generally handed out to guests as they arrive at the ceremony venue, or left on the seats for the guests to find when they take their seat. With a bit of luck, they'll have a quick look through beforehand, so they've got a general idea of proceeding (especially useful if there's any form of audience participation involved- more on this later)
To be honest, the actual content of the Order of Services can very wildly; I've done ones that list the basic running order of the day (12.30 Guests Arrive, 1pm Marriage ceremony Starts 2pm Photos etc etc), and I've done ones that have no times, but lots of information- which songs will be playing, which songs will be sung (with lyrics), which readings will be read, when in proceeding the bride will arrive, and more besides. The most complicated Order of Services I have so far done had all the hymns and readings in English and German, although thankfully I didn't need to translate, else that would have been a disaster… but I digress
If you choose to have Order of Services, the very least you need to have is 'Guests arrive, We get married, Everybody parties!'. The very most you can have is entirely up to you, but there are some guidelines I'd like to share with you:
If you're having a church ceremony with hymns your guests will be joining in with, it's a very good idea to have these printed in the Order of Services; this will save lots of ruffling of pages trying to find the lyrics in the church's song book (and complaining when people can't find it!)
In fact, any part of the ceremony that the audience as a whole will need to participate in, get that into the Order of Service. As previously mentioned, hopefully everyone will have a look through before the ceremony and know what's going to happen when, and what (if anything) they need to do
Whilst it's not essential to have the readings included in full within the Order of Services, it is a nice touch as it means your guests can follow along. Also, often the Order of Services are kept as a keepsake of the day, and being able to read what was said without having a look it up again is nice 
 If you don't want to include the full text, at least include the title and author.- there's nothing more frustrating than hearing a beautiful piece of prose, and not knowing what it is for future reference!
One of my favourite things I've seen in an Order of Service (and I've only come across it once), was having a list of the photos that were going to be taken. it's just another way of making sure everyone knows what's going to happen
Depending on the amount of text you'll require in your Order of Services, your stationer may suggest a single card, or a booklet format. There are a number of different forms an Order of Service could take besides these two (head over to Pinterest for loads of wedding ideas- I love it!), so if you've seen something you like, have a chat with your stationer and find out whether or not it would be feasible and suitable for your wedding day
Final point on this matter is, you may decide you don't need an Order of Service at all- and that's completely fine! As I say, there are some occasions where it really is a good idea, but for some couples, they're really not needed, especially for those who are having a very simple or informal wedding.
If you do decide to have Order of Services, in whatever format they take, please, please make sure they're of good quality and well made. You guests are potentially going to be looking at these for a long time during the day and referring back to them, so they need to look good and be able to withstand being opened frequently. It's also another way to tie in with the rest of your wedding styling in terms of colour and theme, so bear that in mind- having everything perfectly matched to your invites is something that may not be noticed… until it's not perfectly matched, in which case it becomes super noticeable (same thing applies to all your wedding stationery- it's potentially the first and last thing people will see of your wedding, and there's elements of it there on the day too, so getting it right is essential! And yes, the fact I'm a wedding stationer does make me biased… but that doesn't mean it's not true ;) )
That's about all I've got on Order of Services (if you think I've missed anything or have any specific questions on the topic, please let me know in the comments or email me at info@littlevixendesigns.co.uk)
Next week, I'll be tackling everyone's favourite items of wedding stationery- the dreaded Table Plan (unfortunately, I'm all out of ideas for how to stop guests squabbling amongst themselves, sorry! But I've got some other good things to say about table plans, so I do hope you'll check back next week) xx