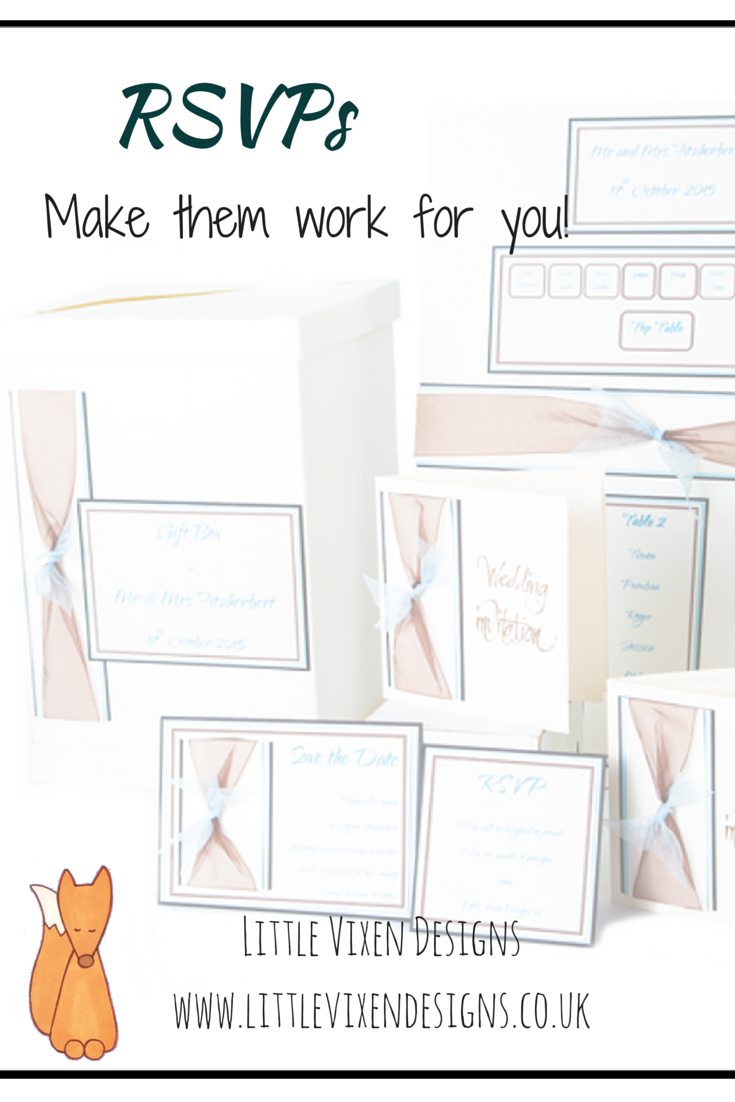 I'm assured that, up until recently, supplying your guests with an RSVP card was very unusual, and guests were left to find their own. This is still entirely acceptable, however it has become quite common to include a specific card for your guests to return to you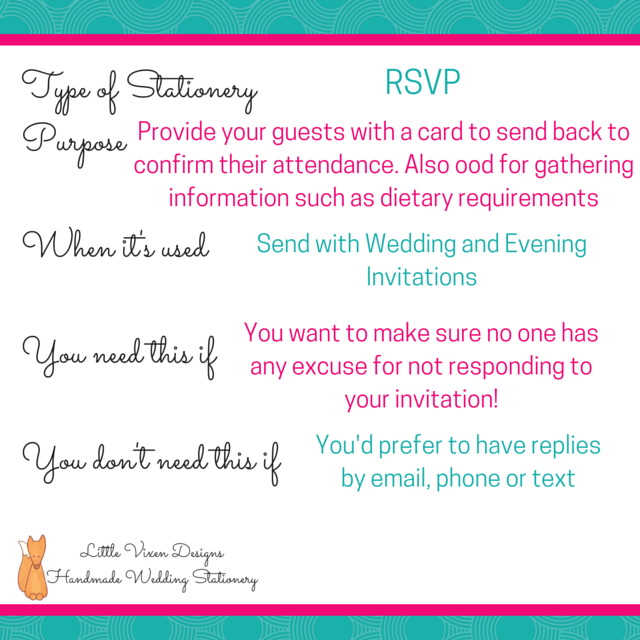 This has a variety of advantage:
There is little excuse for your guests not to reply
It looks nice if you send a coordinated RSVP card
You can collect specific information from your guests
Let's look at each advantage in turn
There is little excuse for your guests not to reply
Hopefully, you've heeded my advice and specified an RSVP by date (very important for letting your venue/caterers know how many people to expect!), however it's quite likely that one or two people will take this as guideline or suggestion, rather than a perfectly reasonable request that will make your life easier. If you've already provided a card, it's one less thing for them to think about or forget, and hopefully will reduce the amount of people you have to later chase for a reply. Extra points for including an envelope, especially if you have your address already printed on it, and if you're really keen you could even include a postage stamp (but honestly a blank envelope is often enough)
2. It looks nice if your send a coordinated RSVP card
Yes, this one is all about the aesthetics and technically not an advantage as such… but your invites are the first thing most people will see of your wedding, so any extra 'wow' factor you can add will make your invitations extra memorable :)
3. You can collect specific information from your guests
The major advantage of including printed RSVPs for your guests to send back to you is that you can obtain information that will help your planning process, and hopefully make sure your guest have the best possible time at your wedding. You really can request any information you like, however the most common options are: Please specify any special dietary requirements; Menu Choices; Song Request. It's not essential, but it can be quite helpful!
An alternative to providing a card to return is to request RSVPs by phone, text or email. This is becoming increasingly common with the widespread use of these technologies, and the increasing postage prices. If you choose this method of RSVP, I would suggest also including a postal address for guests wishing to respond in a traditional method- it's not essential, of course, but do consider guests who may be less comfortable with text or email, or may just like sending things through the post
Most of my handmade designs have an RSVP card already included in the price, however for those who do decide against providing one for their guests (or are managing a very tight budget!), there is a variation of you too :)
Hope that's helped you decide whether of not providing an RSVP with your invitations if right for you. Next week is the first piece of 'on the day' stationery, the Order of Services x