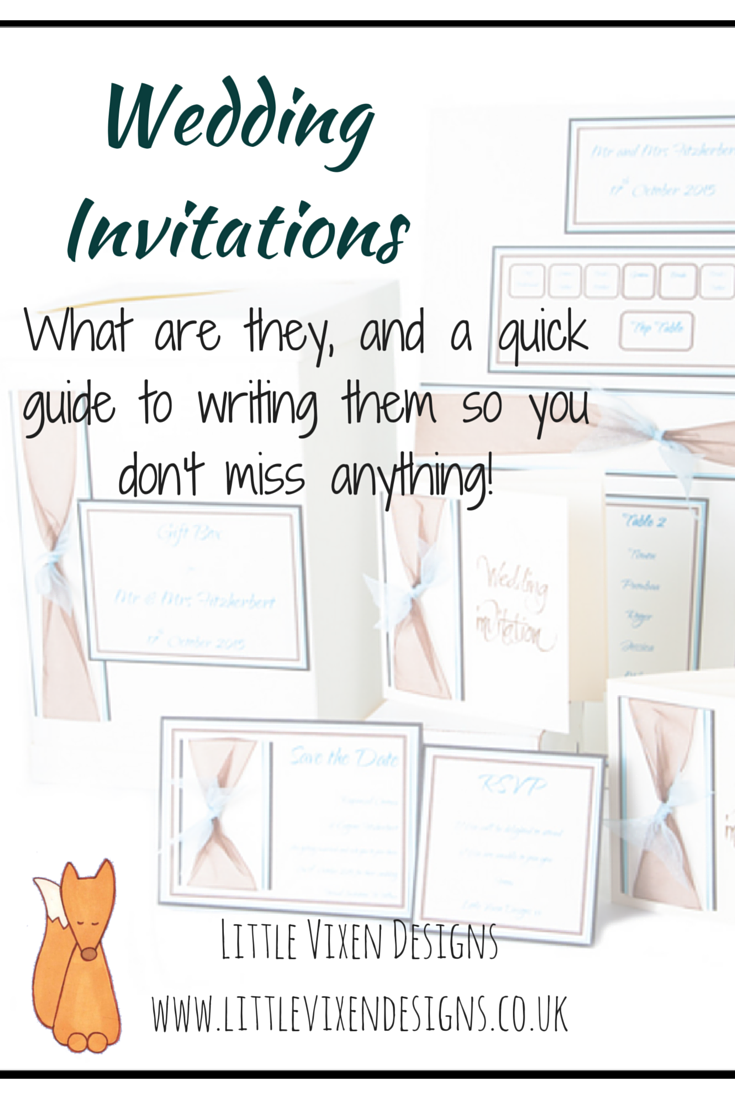 This is the one item of wedding stationery that most couples expect- everything else can sometimes get a bit forgotten! However, that doesn't mean that these are in any way self explanatory or easy to put together, so let me share some of the things I've learnt about wedding invitations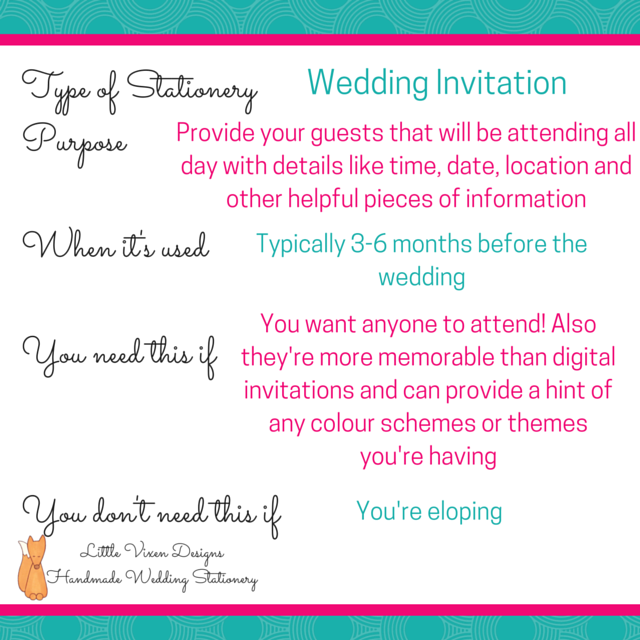 For most couples, the wedding invitations are the most important part of the wedding stationery story; for many, it's the first real introduction to their wedding that they'll be sharing with their guests, so it's got to make a good impression!
By the time you're sorting out your wedding invitations, lots of other things will already be in place, and the overall style will be starting to come together; this is great, as it will mean that you can give your guests a hint of what's to come by incorporating elements into the invitations, for example, colours and themes (which is a whole different issue! I've already written a post about choosing your wedding colours, so if you're looking for a bit of guidance with that, make sure you give it a read)
Honestly, sorting out what they'll look like is the easy part. Getting the text for the invitation sorted can prove a little more tricky.
Traditionally, whoever is paying for the wedding sends the invitations; if the bride's parents pay for the wedding, and therefore do the inviting, the invitation will start 'Mr and Mrs Bennet request the pleasure of your company at the wedding of their daughter Elizabeth to Mr Fitzwilliam Darcy', and the same form of phrasing follows if both sets of parents are paying (Mr and Mrs Bennet and Mr and Mrs Darcy invite you to the wedding of their children Elizabeth Bennet and Fitzwillilam Darcy)
However, more couples are paying for the wedding themselves, or in conjunction with their parents, then '[Together with their parents] Elizabeth Bennet and Fitzwilliam Darcy request the pleasure of your company on the occasion of their wedding'. This is also a useful phrasing method if there has been remarriages with the parents of the couples.
There used to be a strict etiquette around the exact phrasing of the invitations, but nowadays there are many more acceptable options; the variations in the previous two paragraphs are still commonly used, as well as more modern options such as 'Lizzy and Fitzwilliam are getting married! Please join them to celebrate', which are becoming more popular, and if you have children together already, an invitation from the children can be quite sweet. My advice? Write out a few variations, see which suits you best- weddings are all about the couple, and your invitations should reflect that too!
Once you've got that tricky first sentence out of the way, you need to include: Date, Time, Location, when to RSVP by and where to RSVP to. Therefore, an invitation may read:
Together with their parents,
Elizabeth Bennet
and
Fitzwilliam Darcy
Request the pleasure of your company of the occasion of their marriage
At Chatsworth House, Bakewell, Derbyshire
On 21st May 2016 at 1pm
Kindly RSVP by 14th April 2016
to 36 Station Road, Sandiacre, Nottingham, NG10 5AS
or call 07773855595
or email info@littlevixendesigns.co.uk
Of course, the exact phrasing and format is up to you, but generally speaking, that's your basic invitation text.
You could leave it there (lots do), or you could include more information, such as gift lists, accommodation and travel details, or menu choices.
Additional information often necessitates an invitation that can include extra cards or pages (my most popular styles of card for including extra information are the chequebook style, which is a little booklet tied with ribbon, and the pocket fold, which has an integral pocket which can hold 3 cards with extra details. There is also a variation where you have the cards held together with a pretty band
You can see all of these styles, along with my full design collection on the Designs page, with more details in the Glossary. If you want to provide extra information without a fancy card base, you could create a wedding website or blog and direct your guests to that
That's about it about wedding invitations- if you think I've missed anything, please let me know- so next week I'll be dissecting Evening Invitations. See yu then! x