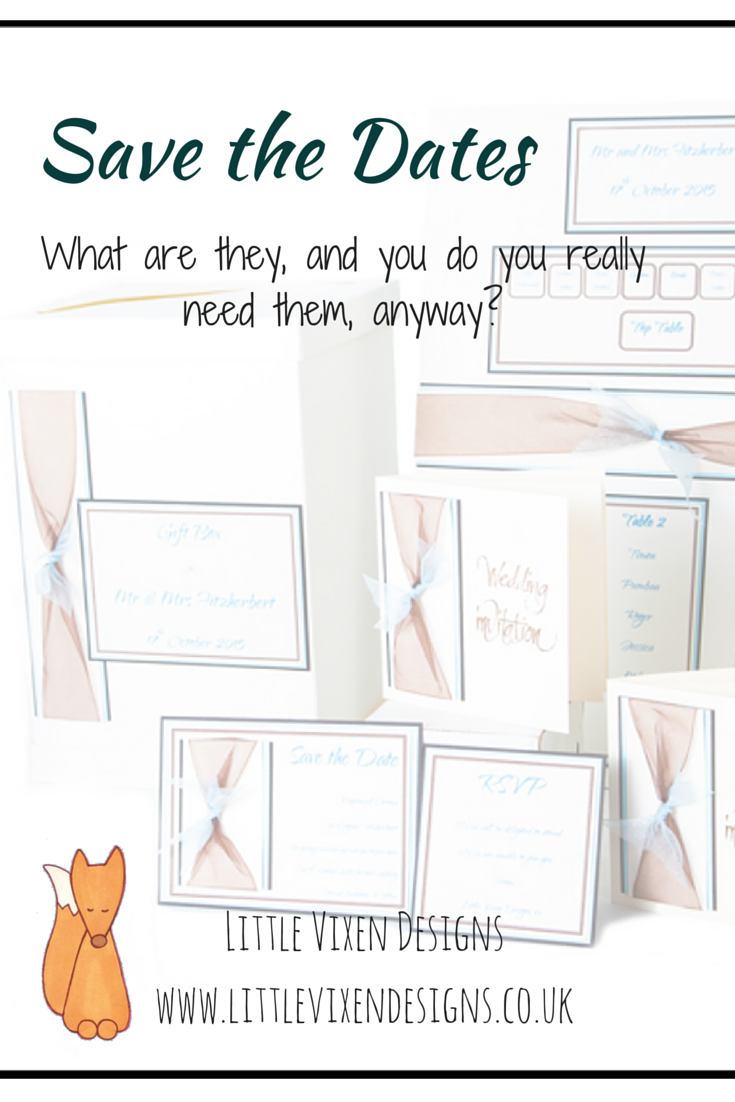 Hello! I'm starting a new mini series today called 'Wedding Stationery Explained', to (hopefully) explain the function of each piece of wedding stationery. Some things are fairly obvious, some things you might never have come across before, and others may seem simple, but actually involve more than you think.
For each item, I'll discuss the role it plays in your wedding, what you need to include, when you use them, and when you don't need them. So, let's get started with the very first piece of wedding stationery you may use; Save the Dates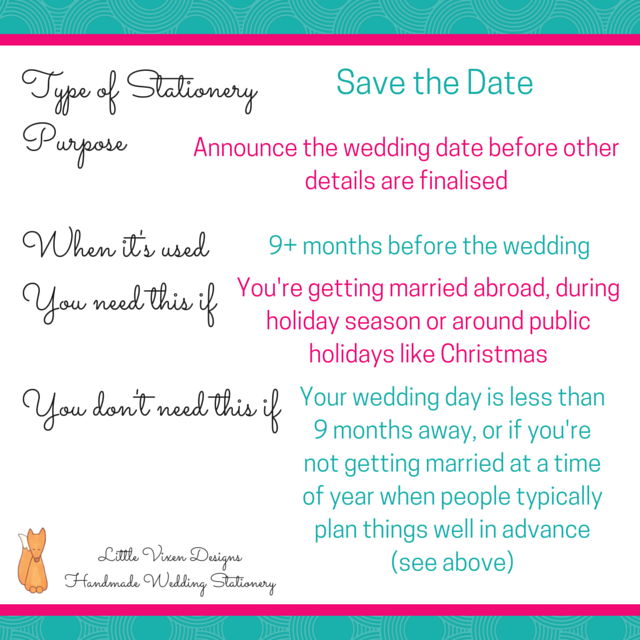 These are one of those self-evident things- you're telling your guests that you've booked your wedding date, and requesting that they keep the date free so they can attend. The phrasing of Save the Dates generally is as follows:
Save the Date
Elizabeth Bennet & Fitzwilliam Darcy
21st May 2016
Formal Invitation to Follow
You may choose to add 'are getting married on' after the names, or mix up the order to names/date/Save the Date or date/names/Save the Date, but so long as you get all of those pieces of information on there somewhere, it'll be fine
If you choose to have Save the Dates, you may want to tie in any colours or themes you're planning on having as part of your wedding styling, but for many couples these details aren't in place yet and they choose a fairly generic design, or a photograph of themselves
There are a huge number of formats Save the Dates can take, from a simple postcard to fridge magnets and even balloons. It doesn't matter which you pick, so long as the details get there :)
Many couples choose to omit Save the Dates altogether, which is fine. However, you really should consider them if you're getting married any time people may typically be unavailable, e.g, summer holidays, Christmas or near a Bank Holiday, or if you have guests who will need to travel a long way and make arrangements for that, or if you plan to wed abroad (in which case adding an extra line detailing where you'll be getting married would also be useful)
Save the Dates are typically sent about 9 months or more ahead of the wedding; if your wedding is nearer than this, you can probably skip them and go straight for the invitations, unless you really want them, in which case, go for it! 
If you would like to discuss your ideas for Save the Dates and get an estimate from me, please use my contact form to let me know the kind of design you'd like and the quantity you'll be requiring, and I'll get back to you ASAP :) 
Next week, we'll be taking a look at Wedding Invitations, so do check back then :) xx