When you order your wedding stationery, what can you expect to happen when?
Of course, depending on who you place your order with, what I write below will probably vary. However, this is how I do things, and therefore I'll be writing in the first person :)
Initial Contact- whether you meet me at a wedding fayre or get in touch by phone or email, there is always going to be a first point of contact. This is the time when you start to lay out what you want your wedding stationery to look like, so be prepared for questions about the colour/style/design you're looking for, as well as things like your wedding date and when you want to be sending your invites out. I'll also send you a copy of my free info pack, to help you with your wedding stationery 
There may be a few conversations like the one above until we've really narrowed down on what you're looking for (don't worry if you're not got it all exactly planned out yet, the finer details often appear during these conversations! Having a broad idea of what you'd like is generally enough to start with), but once I've worked out what kind of thing you want, I'll either start suggesting designs in my collection hat might work for you, or begin putting together a design for you to look at
Once you've found the design you're looking for, you need to let me know the quantities you'll be requiring. From this, I'll create a personalised quote, and details the deposit and balance amounts
After this, we will discuss payment methods for the deposit (PayPal, cheque, cash or card) and once you've paid your 50% deposit, I'll start purchasing the required materials and get started on your order
Next, I'll need you to get the text for your invitations written out and sent to me. I'm more than happy to offer advice, but lots of couples like to write their invitations in their own way, so unless asked, I tend to work with what you send me :)
Once I've received your text, I'll prepare some proofs and email them to you for you to check. It's especially important that you check things like dates, names/spellings, phone numbers and emails, as these are things that I won't know are wrong, but if you notice anything that doesn't look quite right or you would like to see it in a different colour or font, let me know and I'll make the adjustments for you
When you're happy with the proofs, I'll print them and complete your order
As soon as your order is completed, I'll contact you to let you know and arrange payment for the remaining balance plus any postage costs. Once the remaining balance is paid, I'll post your order (unless you're collecting in person, in which case you receive it straight away)
If you notice any issues with your order, please let me know as soon as possible, and we will find a solution
I always appreciate feedback, so if you have any comments, please tell me!
If you'd like any matching stationery at a later date, please let me know as soon as possible so I can ad you to the schedule :)
Generally, this process takes between 4-6 weeks, assuming that communication from the client is consistently quick. An example of a 5 week schedule can be found below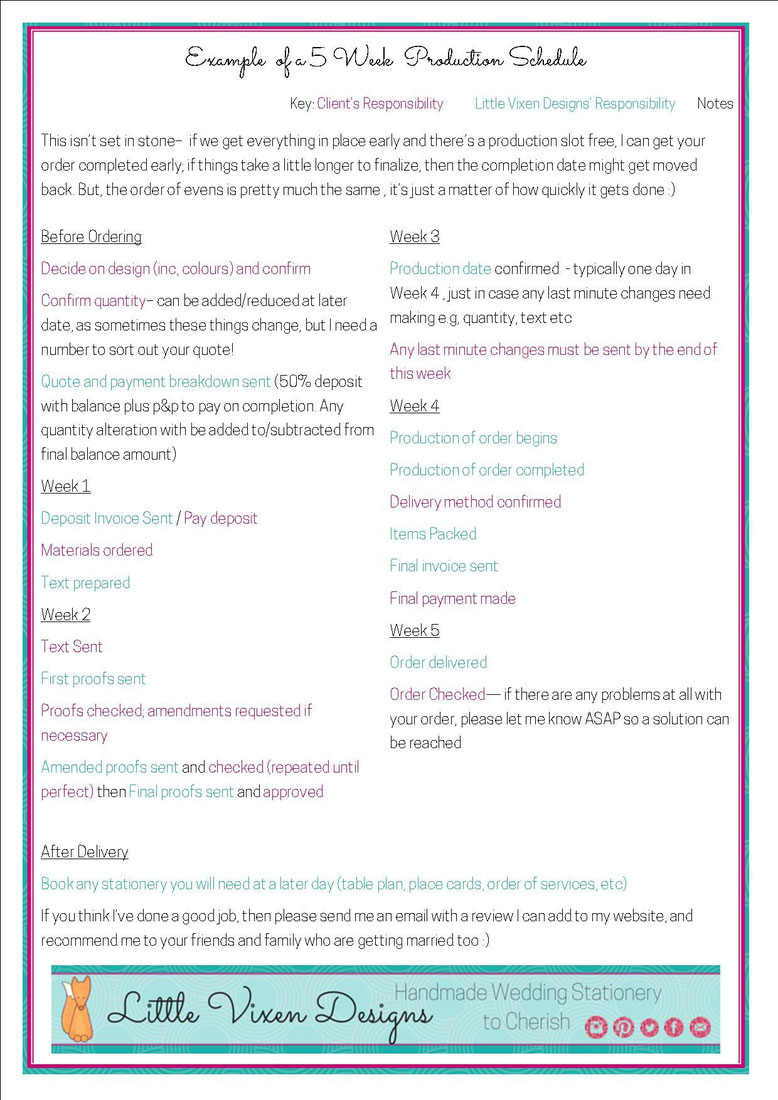 I hope that helps you understand my ordering process :) If you have any questions, please leave them in the messages below or email me at info@littlevixendesigns.co.uk and I'll be happy to help!
See you next week!
Love, Rosie xx