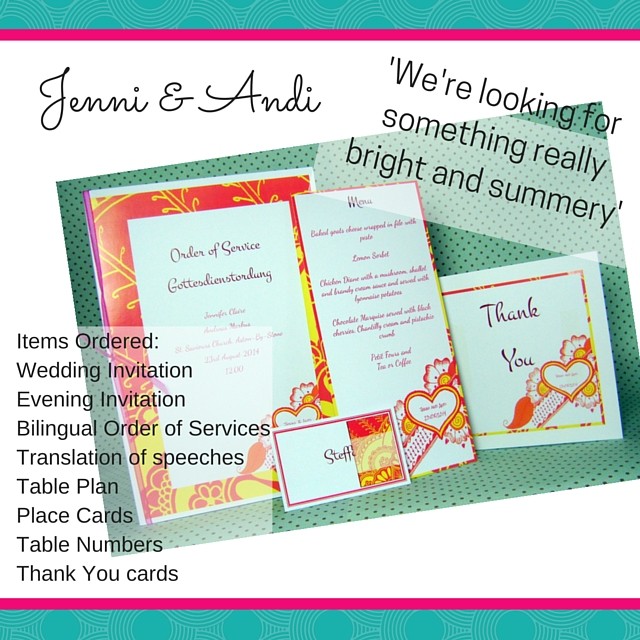 Quite often, I get asked to create a bespoke design for a couple (which is so much fun!)
So, I thought I'd share a few of them with you, as these ones aren't available through my website (although you can see all of my current wedding portfolio, plus some of the bespoke designs I've created in the past)
This design was created for Jenni and Andi a couple of years ago, for their bright, colourful wedding in August. They had a sunny yellow, orange and hot pink colour scheme, and loved the idea of a mehndi design, especially when I showed them the heart and flowers motif I'd sketched up- very appropriate for summer!
Because the groom was German, they chose to have certain parts of their stationery in English and German to make it easy for everyone to follow the service and speeches, as both languages were used at various points of the day
In addition to the items shown in the main picture, Jenni and Andi also had wedding and evening invitations in a similar style to the front of the Order of Service, translation of the speeches in the same style as the Menu, table name signs and a table plan
The table plan was great fun to do, with patterned paper bunting and hand-drawn mehndi details picked out from the main design, plus some paper piecing to make the flowers at the bottom of the table plan to get the colours nice and bright
I hope you enjoyed this little look at a bespoke design I created :) Next week, I'll be discussing some of the history and symbolism surrounding one of the most romantic celebrations of the year, Valentine's Day!
See you soon :)
Love, Rosie x